Get in touch directly with us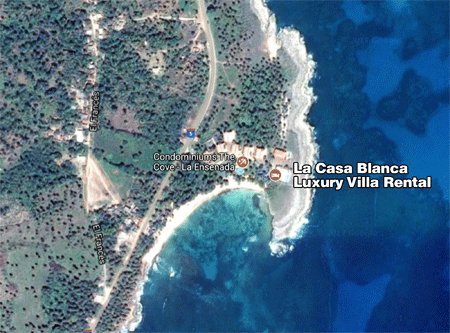 La Casa Blanca
Oceanfront Luxury Villa Rental
Rick & Kay Hines, owners
Highway #5, El Frances
10 Miles East from Samana Town
Dominican Republic
Alex & Milly, your local hosts
DR Phone : +1 (829) 712-8101
Email : casablanca.villarental@gmail.com
Daily Rental Rate : $250 US for 2 persons, $300 US for up to 4 persons, $350 US for up to 8 persons.
> Minimum 3 night stay.
Property details : Oceanfront Villa with Pool, 4 Bedrooms, 4 Bathrooms, Sleeps 8, AC, WiFi, Wide Screen Television, Washer & Dryer. 100 feet away from a beautiful beach. The villa is located in a secure gated community called The Cove and has its own night watchman. Its a 15 minutes drive from Samana Town.
Note from the owners:
We first visited La Casa Blanca a few years ago and loved the house and the view so much that we decided to make it our second home. We live in Kansas but spend as much time as possible with friends and family in the DR. We hope you like the place as much as we do, and that you enjoy your stay with the help of your local hosts, Alex and Milly!
Best wishes,
Rick and Kay Hines
Meet Alex and Milly, your local hosts:
Alex and/or Milly will greet you upon your arrival at the villa. They will give you a remote control to use for the gate at the entrance to The Cove and a brief introduction to the villa and grounds. They are just a phone call away if you need anything during your stay. They can help arrange day trips, a cook, maid service, a massage or just direct you to restaurants or local attractions. For an additional fee they can guide you on a variety of day trips, including sailing and fishing adventures. They can shop and stock the home with food, liquor and other supplies before your arrival. Please allow Alex and Milly to make your stay as exciting or as relaxing as you wish.